In a phone call which may mark a shift in coming relations with the Kremlin, President-elect Donald Trump spoke by phone with Russian President Vladimir Putin on Monday.
The phone call produced an agreement between the two men for "constructive cooperation" in several areas, particularly combating international terrorism.
A statement released by the Kremlin revealed Moscow was prepared for a new era of rapport between the two nations based on "the principles of equality, mutual respect and non-interference in each other's domestic affairs."
Similarly, both Mr. Trump and Mr. Putin agreed on the need to create a footing where economic development, trade specifically, will flourish.
The statement continued to underline the importance cooperation in one area, international terrorism, which both men declared "the number one common enemy," and vowed to find a solution to the crisis in Syria.
In a brief statement describing his interpretation of the conversation with Putin, President-elect Trump stated his enthusiasm for an enduring relationship with Russia and its people.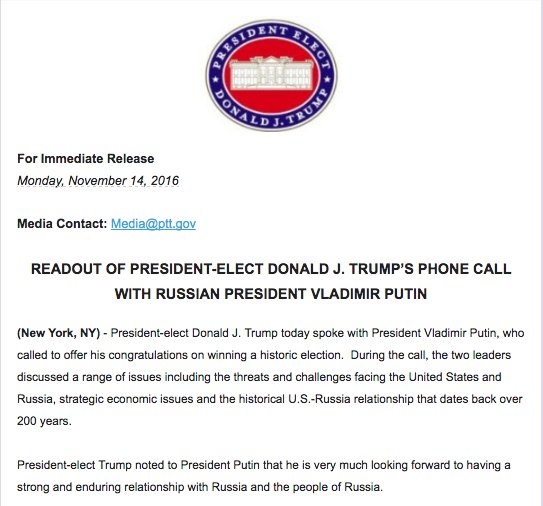 Ties between the two nations have deteriorated over the last eight years with Russia repeatedly protesting the eastward expansion of NATO, European Union's Eastern Partnership and the presence of NATO ground troops in several countries neighboring Russia.

Relations have continued to sour over what both nations claim is a lack of cooperation and cohesive strategy to crush the Islamic State which overran parts of Syria and Iraq.  Moscow seeks to prop up Syrian strongman Bashar al-Assad; the U.S. has demanded his removal and is arming anti-Assad groups.

[Reuters] [Photo courtesy Getty Images via New York Post]